Clinical Team Spotlight: Adair Anderson

By
Tyana Smith
·
3 minute read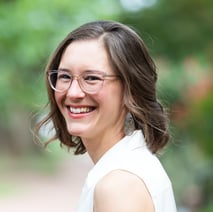 In honor of National Nutrition Month, we talked to Adair Anderson, Vibrant Clinical Liason, about her work in clinical nutrition, gut health, and digestion.
Adair shared how her desire to improve the lives of women fuels her work in functional medicine, specifically gut health, and how her adventurous life in Idaho provides her happiness and fulfillment.
Describe your role at Vibrant Wellness
My official title is Clinical Liaison – which means I improve communication, collaboration, and cohesion across Vibrant Teams.

Daily, you can find me answering questions (from clients, patients, and fellow Vibrant employees), providing consultations to clients, giving presentations, and improving workflow within the company.
Basically, I solve problems, providing education and solutions.
What are your credentials and certifications? Where did you go to school?
I am a Registered Dietician Nutritionist (RDN) and Licensed Dietician Nutritionist (LDN).
I have a Bachelor of Arts in Biochemistry from Earlham College (a liberal arts school in Richmond, IN) and a Master of Science in Clinical Nutrition from Bastyr University.
I completed my dietetic internship with Virginia Tech (northern Virginia location).
What led you to a career in functional medicine? Did you always have this career in mind?
I've always been focused on health and performance. My dad is a former long-distance runner who held the world record in the half marathon. My mom made sure we ate healthy, balanced meals. I was always very aware of how exercise and intake impacted how you felt and looked.
As a scholar-athlete, I optimized my diet to improve exercise and academic performance.
While I wasn't sure what I wanted to be when I went to college, it surprised no one that I became a dietitian.
What led you to Vibrant?
A confluence of three factors: my mentor, DIFM (Dieticians in Integrative and Functional Medicine), and Mary Beth Augustine.
I wasn't feeling fulfilled or challenged in my previous job. My mentor recommended I apply for a secretary position with DIFM and to Vibrant Wellness, because that's where Mary Beth works.
I've known Mary Beth forever, and every time I saw her present at conferences, her presentations were always the most evidence-based and well-thought-out.
I thought to myself, I would love to work with someone like that.
I ended up applying and got the job with Vibrant.
What is your area of focus?
My area of focus is gut health and solving digestive mysteries. I specialize in working with clients who have not gotten the support they need from their other healthcare providers.
I especially love supporting women.
Gut health impacts women more than men, and I feel if women weren't held back by gut issues, we could make a bigger and more positive impact in this world.
What is your favorite Vibrant lab test?
The Gut Zoomer and Wheat Zoomer because those tests help determine the root cause of people's digestive issues.
With the Wheat Zoomer, most of the time, if people are reactive, they are sensitive to wheat. Additionally, the Gut Zoomer tells you what type of dysbiosis is going on.
I feel like to really get to the root cause of symptoms, you need to do functional wellness testing.
What part of your job gets you really excited?
Providing evidence-based guidance to help people feel better and get back to living their best lives.
What is your favorite part about your job?
Learning. Getting paid to find and share the best evidence to promote health.
What achievement are you most proud of?
Going remote and moving to Idaho to pursue a life of adventure.
What motivates you to get out of bed and do the work each day?
My drive is to leave this world better than I found it.
And the fact that I love executing and accomplishing.
What is your #1 advice for providers?
Use all the facts and insights to craft personalized guidance for patients (labs are just one piece); correlate clinically.
What is your #1 advice for patients?
Trust your body can heal itself if you feed it healthy food, allow for adequate sleep, aim for being in a rest-and-digest state of mind 80% of the time, and surround yourself with a nourishing environment.
Do you have any unrelated job or life experiences that helped prepare you for your role today?
The introduction to the StrengthsFinder. It helped me clarify my strengths and identify strengths in others.
I learned that my inner drive is achiever. That means I must achieve something tangible daily to feel good about the day (even on vacation).
I also thrive on predictability and solving science-based problems I can fix with confidence.
Where is your favorite spot in your city?
Quigley Canyon. I live in Hailey, a mountain town, which means there's one road going up the Canyon, and then there are canyons off to the sides because mountains surround us.
So you can basically go up any drainage and explore. It's a really easy place to do recreational activities.
In the winter, there's a whole series of cross-country ski trails. In the summer, mountain bike trails and hills for hiking. Quigley Canyon is probably where I spend the most time, aside from my house and garden.
Share one surprising fact about yourself
I've lived in 10 states: Colorado, Minnesota, Oregon, Wisconsin, Michigan, Indiana, Washington, Virginia, Washington D.C., and Idaho.
What do you like to do when you're not working?
Seasonal outdoor activities! And travel.
In the winter, I enjoy downhill skiing, cross-country skiing, backcountry skiing, and winter camping.
In the spring and fall, I enjoy running, biking (road or gravel), hiking, backpacking, and rock climbing.
---
Adair Anderson is an Idaho-based Registered and Licensed Dietitian and Clinical Liaison for Vibrant Wellness.
She specializes in gut health and digestive conditions and has a Master's degree in Clinical Nutrition.
Be it solving digestive mysteries or finishing her first skate ski race, Adair is energized by the steady and deliberate journey from novice to competence. She is thrilled by learning new facts—and sharing them with others.
Schedule a consultation with Adair on her website and follow her on Instagram @ibsnutritionist.