Navigating the New & Improved Provider Portal

By
Jamie Haleva
·
4 minute read
The new and improved Vibrant Provider Portal streamlines your lab testing process. Order tests, track lab kits, compare sample reports, and more—all from a single dashboard.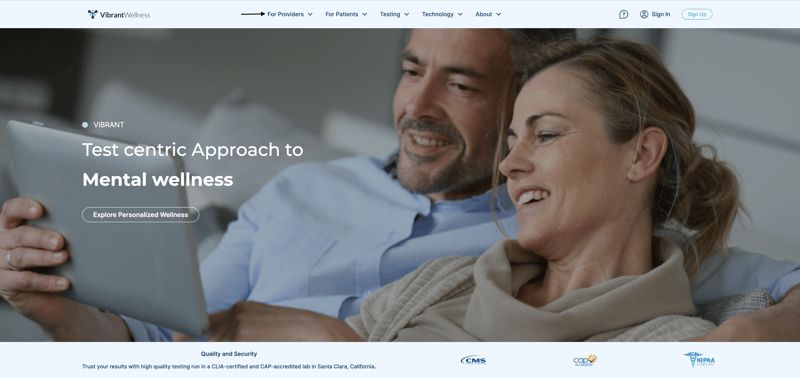 Top Features to Explore:
Instructional Guide: Master the Portal Features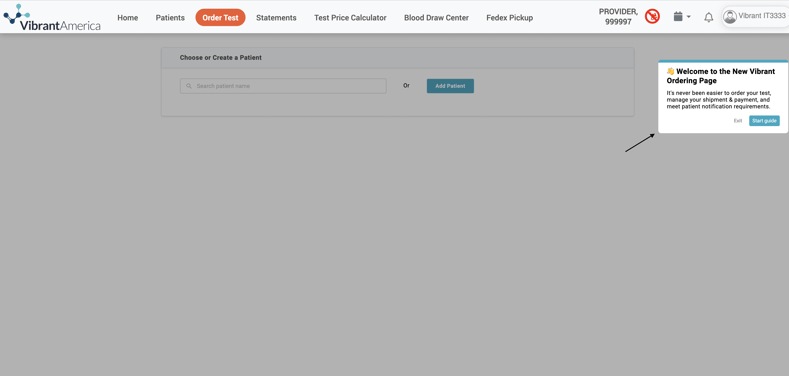 Navigating the new ordering portal for the first time? Our instructional guide offers step-by-step guidance, ensuring you utilize all the key features and place orders smoothly.
Click on the

Order Test

tab from the main toolbar. The guide will automatically appear.

Click

Next

to proceed with the guide's steps.
If you'd rather explore independently, click Exit.
Home Screen: Your Vibrant Hub
On the Home Screen, you can instantly access:
Real-time patient lab reports

Educational clinical resources

Lab kit status and shipping details
Education Center: Your Knowledge Headquarters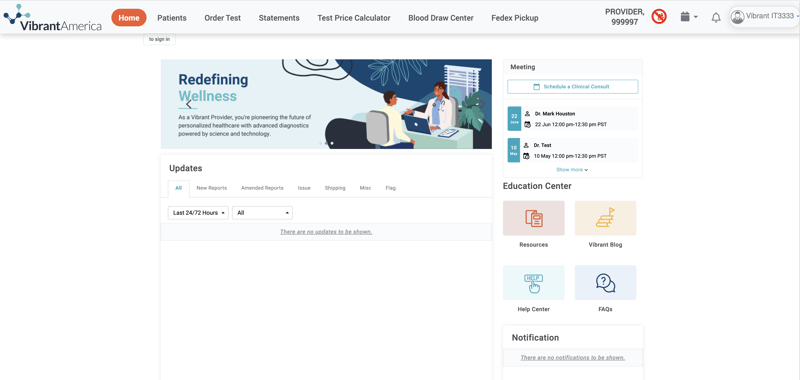 Dive into our comprehensive library designed to support your practice:
Resources

: Search by category or test name to find valuable materials for any Vibrant Wellness or Vibrant America lab test.

Vibrant Blog:

Dive into articles on functional medicine, our latest tests, provider spotlights, nutrition plans, and more.

Help Center:

Find comprehensive guides and step-by-step instructions on testing, sample collection, test interpretation, and more.

FAQ:

Read quick answers to frequently asked questions about placing orders, shipping kits to patients, and more.
Patients Tab: Manage & Monitor Patient Info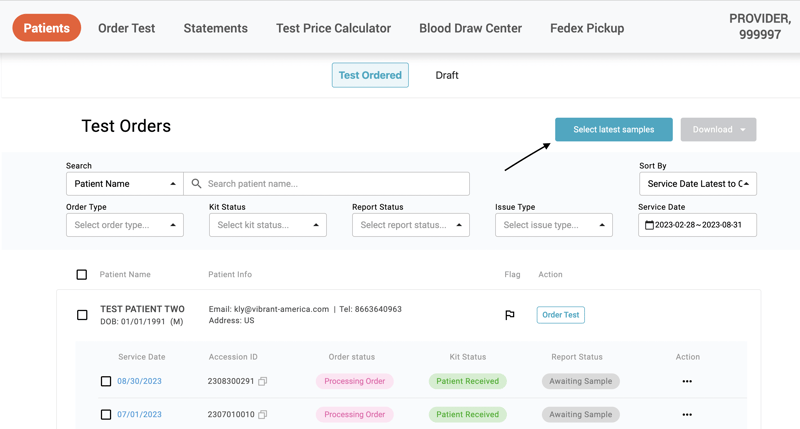 Handle patient-related details efficiently with the Patients tab:
Lab order status

: Know if further action is needed by tracking if your order is processing, completed, or canceled.

Lab reports:

Access and download patient lab reports, order summaries, and requisitions with ease.

Live kit tracking:

Monitor test kit deliveries to patients and the lab in real time.

Reorder testing:

Track patient health progress by reordering past tests.

Lab order drafts:

Save and resume a lab order anytime.

Individual test results comparison:

Review a patient's health journey by comparing old and new results.
Zoom in: Reorder Testing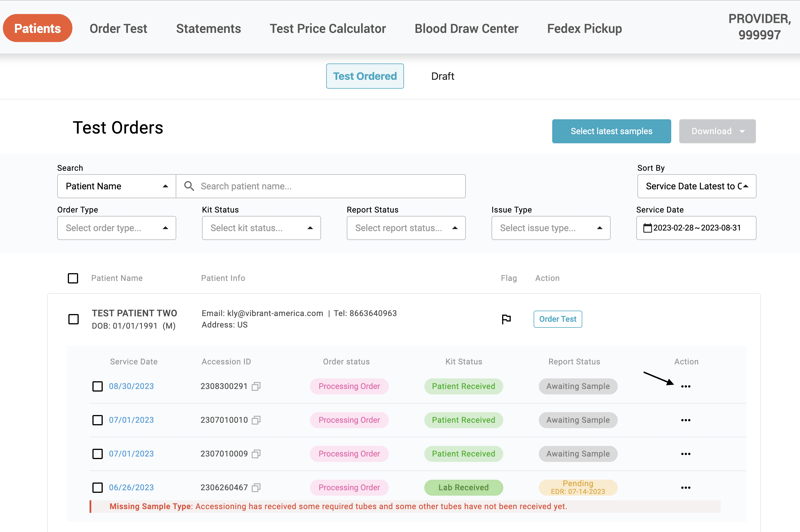 Repeat testing helps monitor your patients' progress and assesses how well current protocols are working. It's key for refining treatment plans over time.
To reorder testing:
Find the original order among the displayed test orders.

On the right side, under

Action

, click the three dots.

From here, choose to reorder, cancel, or track the kit.
Zoom in: Compare Test Results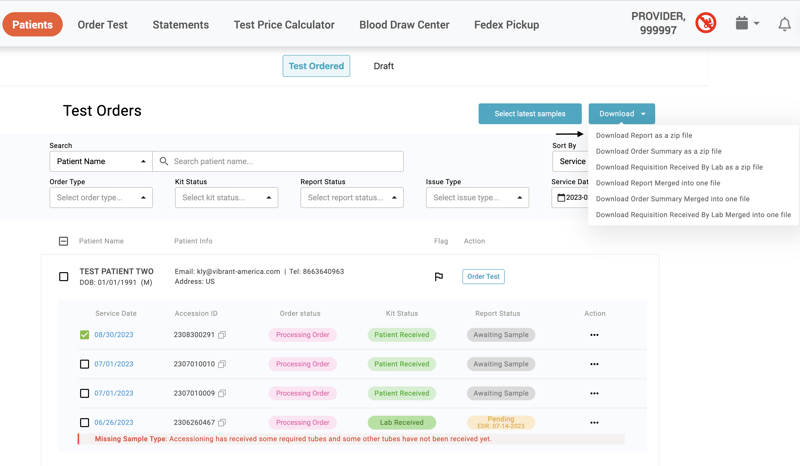 See how your patients are progressing by comparing past and present test results. You can even review results from different test types to gain a holistic view of their health journey.
Here's how:
Go to a specific patient's samples and select the tests you want to compare.

Click the

Download

button to get individual reports.

For a consolidated view, select "

Download report merged into one file"

from the

Download

dropdown.
Order Test Tab: Streamline Your Ordering Process
Everything you need for a smooth ordering experience.
Key features you'll find under the Order Test tab include:
Instructional guide—

Get a step-by-step walk-through to navigate the Ordering Portal and discover helpful features.

Shortcut bundles—

Speed up the ordering process

by

c

reating shortcut bundles for your favorite labs.

At-home menu—

Quickly view all tests that patients can complete at home.

Additional test information—

Dive deep into each test—its purpose, common symptoms, markers, and more.

Order summary—

View your cart at a glance, including pricing, delivery and payment methods, and required tubes for sample collection.
Zoom in: Shortcut Bundles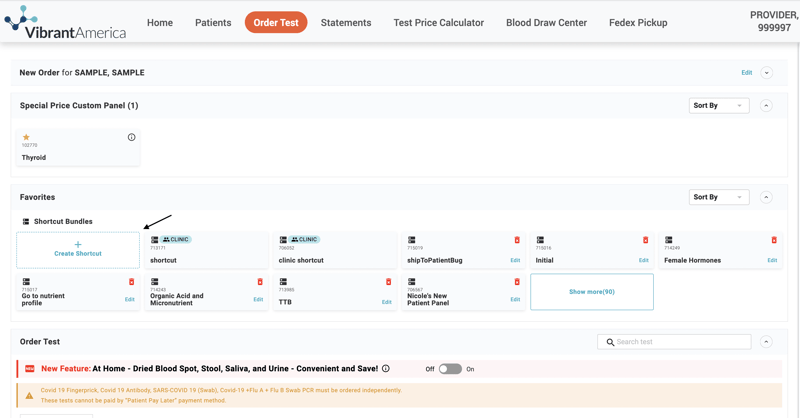 Save time by creating shortcuts to your favorite test bundles.
Here's how:
Head to

Favorites

and choose the

Shortcut Bundles

tab.

Tap

Create Shortcut

to group your preferred tests into a bundle.

Once saved, you'll find them readily available under the

Shortcut Bundles

tab for faster future orders.
Zoom in: At-Home Menu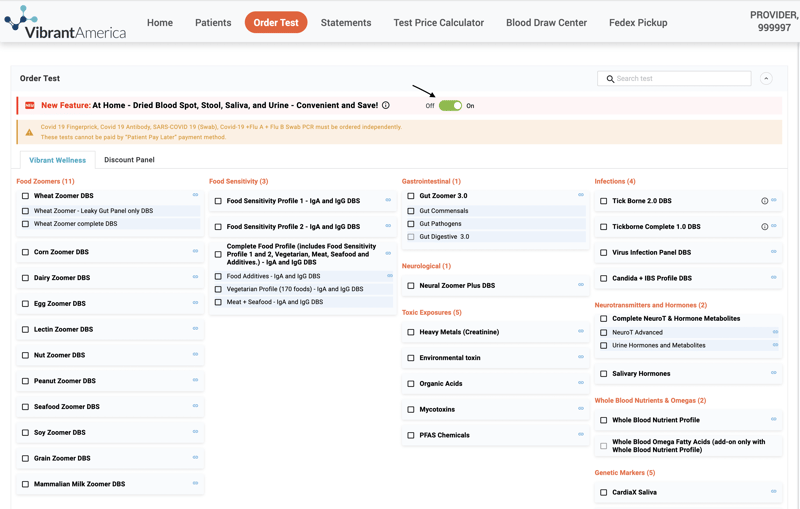 For patients who value convenience or face challenges visiting a blood draw center, the at-home testing menu showcases all of our testing that can be done comfortably from home.
Here's how to access the at-home menu:
Go to the

Order Test

tab and find

New Feature

.

Switch the toggle from

Off

to

On

.

The menu will now only display tests available for at-home completion.



Zoom in: Additional Test Information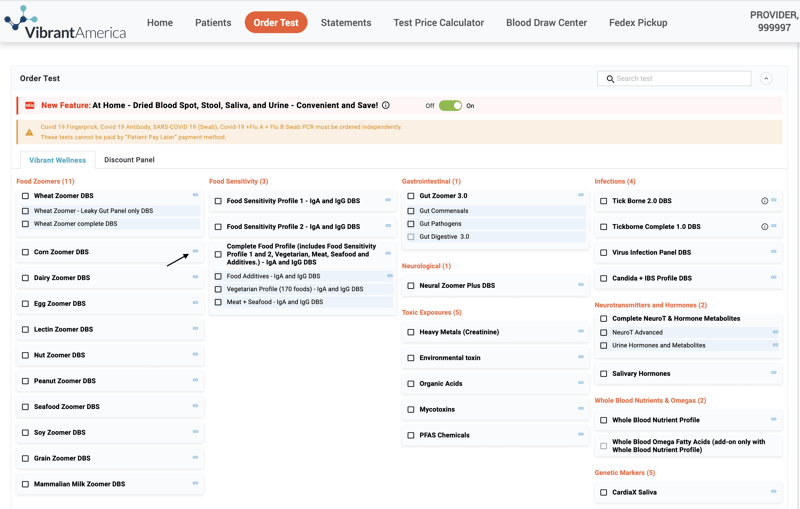 Get a more detailed view of each lab test, including the key markers, associated patient symptoms, educational materials, and more. This is helpful to better understand if a test is the right fit for your patient.
When navigating through Vibrant Wellness tests, click on the link icon next to the test name. This will direct you to the test's detailed page on the Vibrant Wellness website.
Statements Tab: Organize Your Orders
Review all your lab order transactions with ease:
Downloadable lab statements and order summaries—

Download your lab statements and order summaries to keep a record of transactions.

Total order history—

Reference past orders and sort by order date or dollar amount spent on each test.
Test Price Calculator: Maximize Your Savings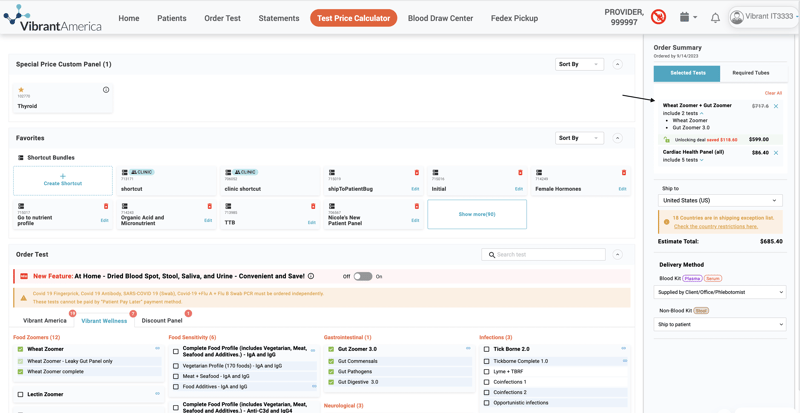 Unlock the best deals and understand collection requirements using the Test Price Calculator. Navigate back to the ordering page, select the desired tests, and your updated total — including any savings — will be displayed clearly under "Order Summary."
The Test Price Calculator tab will take you back to the test ordering page. Here, you can select which tests you want to buy, and your total will be automatically calculated. You can find the total on the right of your screen under Order Summary.
Blood Draw Center: Ease Patient Blood Draws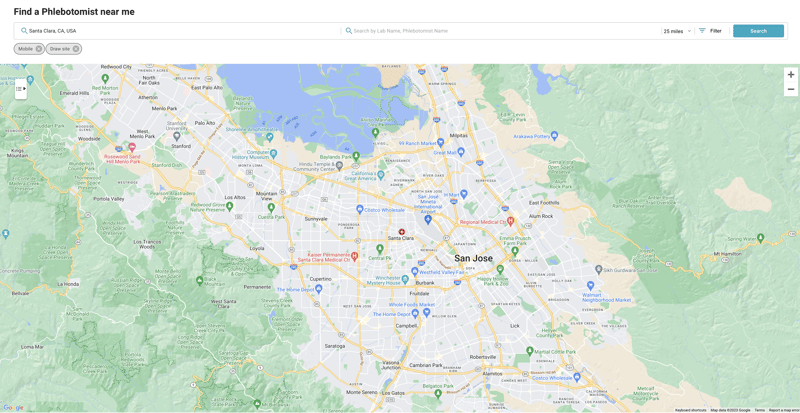 Easily locate the most convenient blood draw options for your patients. Simply click on the Blood Draw Center tab from the main menu, and a comprehensive map showcasing nearby draw centers will be displayed.
FedEx Pickup: Simplify Your Lab Shipments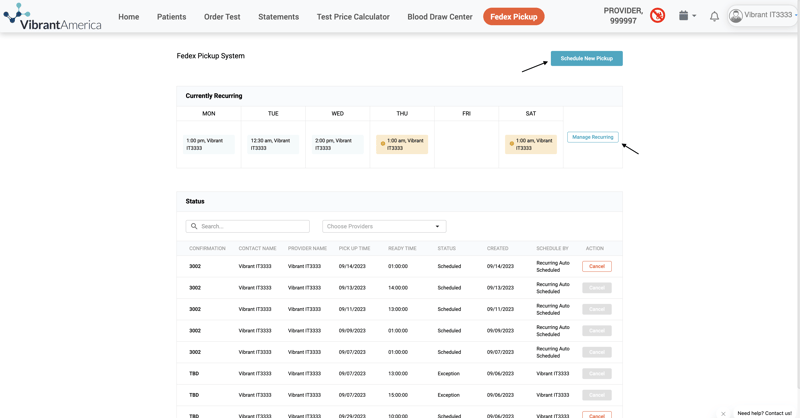 Enhance the efficiency of your clinic's lab shipments with our FedEx Pickup feature. Accessible from the main menu, this tab allows you to:
Schedule new pickups tailored to your clinic's busiest times.

Monitor current pickup statuses for optimal organization.

Set recurring pickups to ensure consistent and timely deliveries.

Adjust schedules or cancel pickups easily, keeping your testing process agile and responsive.
Meetings Link: Access Support for Enhanced Care
Stay connected and informed with the Meetings feature:
Schedule a meeting with your sales rep for one-on-one support.

Book clinical consults to dive deep into sample report interpretation, ensuring you understand every detail.

Stay organized by keeping track of all upcoming appointments.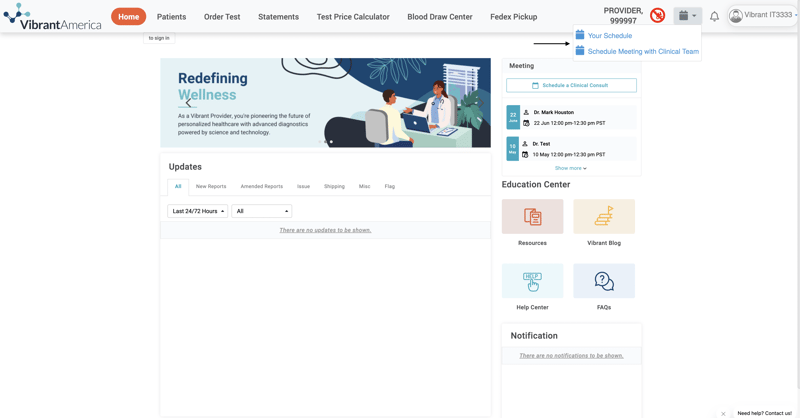 To schedule or view your meetings, just click on the calendar icon at the top of your screen.
Settings: Personalize Your Portal Experience
Navigate to your Settings to fine-tune your experience:
Update and review your practice details, such as office address, shipping address, and billing address.

Set your general preferences, including selecting a default delivery method and adjusting test menu settings.

Establish default notification preferences for both you and your patients, ensuring timely updates.

Configure your patient navigation system for seamless management.

Determine your billing preferences and set default payment methods for smoother transaction

Manage your personal account details, including personal information and credentials.
Accessing and updating your settings is simple:
Click on your clinic name at the upper right of your screen and choose

Settings

.

Navigate through the relevant sections to make your desired changes.
Zoom in: Notifications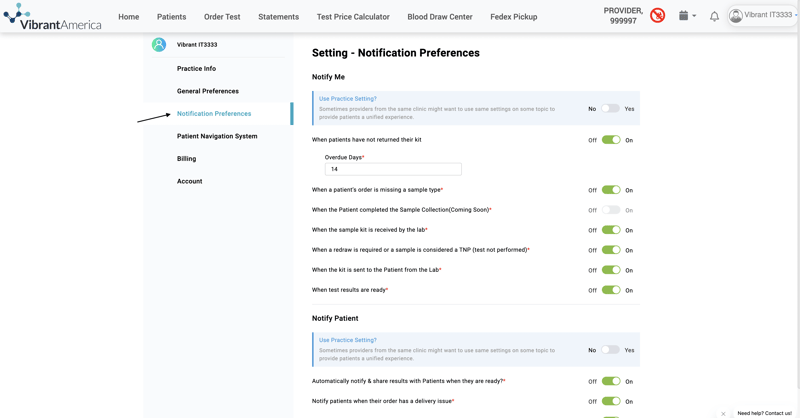 Adjust the notification settings to ensure both you and your patients stay informed throughout the lab testing process:
Set up automatic notifications for patients, reducing the need for manual updates and ensuring they're always in the loop.

Stay informed on lab order statuses, test kit situations, and other crucial updates, empowering you to act promptly when required.
To refine these notifications:
For personal updates, head to the

Notify Me

section.

For patient-specific alerts, scroll down to

Notify Patient

.
---
The new Vibrant Provider Portal is designed with your needs in mind. Whether you need to compare patient lab results over time or quickly re-order tests, it's a straightforward solution designed to make your patient care even better. Log in today and see for yourself!
---